22″ (56 cm) Recycler® Personal Pace Auto-Drive™ Mower
$929 inc GST
Key product specifications
Deck

:

22" (56 cm)

Power

:

163cc

Engine

:

Briggs & Stratton® 725 EXi

Feature

:

Auto-Drive™

2 year warranty
Find a local dealer
Key product specifications
Deck

:

22" (56 cm)

Power

:

163cc

Engine

:

Briggs & Stratton® 725 EXi

Feature

:

Auto-Drive™

2 year warranty
Find a local dealer
Overview
Features
Specifications
Accessories
Introducing a mower that adjusts to you, with no knobs, no levers, no messing around. Grab the easy-to-steer handle, engage, and go – with Personal Pace Auto-Drive™. Supercharge your mowing with an amped airflow that requires less energy to cut more grass into teeny-tiny, clumpless clippings. That's our Vortex Technology™ giving you Lawn Vitamins™ for free. Throw on the grass bag and start your lawn vacuum that holds more so you empty less. In total, it's a boatload of features that easily make you and your lawn look great in less time. This machine starts the first time, every time, and is built to last with a 56cm steel deck. Powered by a 9.8 N.m Gross Torque Briggs & Stratton® EXi 163cc engine. Includes standard feature – no oil changes for the life of the engine, just top it off.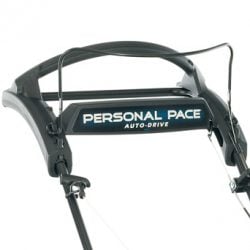 Personal Pace Auto-Drive™
No levers, no adjustments, no learning – the self-propel, evolved.
Vortex Technology™
More airflow to supercharge your grass cutting.
Super Bagger
Get the job done more easily than ever with our new Super Bagger, shaped for easier lifting, no-shake pouring and zero-hassle cleanup.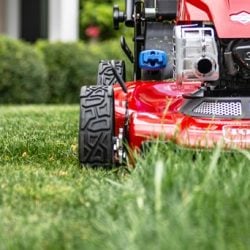 Feed Your Lawn
The ultra-fine clippings created by our Recycler® Cutting System are Lawn Vitamins™, nourishing your grass and cultivating a greener, more lush lawn.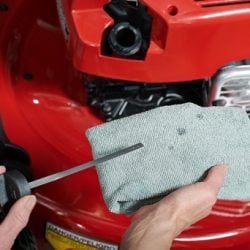 Hassle-Free Maintenance
With a Toro, there's no oil change – ever. Just check the oil and top it off.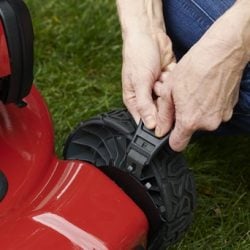 Choose Your Cut
Manicure your lawn to your specifications with 9 cutting positions with 2.5 – 10 cm in cutting height range. You can also easily adjust to 2 different handle heights.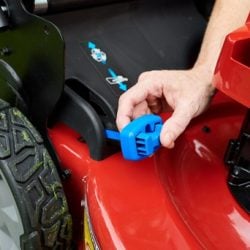 Bag on Demand
Switch from mulching to bagging in seconds while leaving the bag on the mower.
Roll With It
With a tread pattern that adds traction without tearing up your grass, our new wheels give you just enough bite to get up hills and sail through slippery, damp conditions.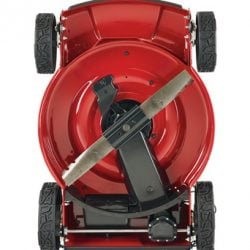 Time Saver
Mow more in less time, save time, finish faster, and make your job easier. Cut a wider path with each pass with an extra-long 56 cm blade.
| | |
| --- | --- |
| Engine | Briggs & Stratton® 725 EXi |
| Fuel Capacity | 9 litres |
| Cutting Width | 56 cm (22") |
| Deck Design | Stamped |
| Power | Petrol |
| Fuel Capacity | 9 litres |
| Height of Cut | 2.5 - 10 cm (1.0" - 4.0"); 9 positions |
| Starter | Recoil |
| Drive system | Personal Pace Auto-Drive™, Rear-Wheel Drive |
| Deck Material | 14-Gauge Steel |
| Mulch, Bag, Side Discharge | Standard |
| Handle Type | 1 Piece, Adjustable Height - 2 positions |
| Height | 111.8 cm |
| Width | 58.4 cm |
| Weight | 37.6 kg |
| Wheel Height | 20 cm Front, 25.4 cm Rear |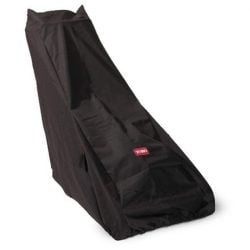 Product Cover – Walk Power
Protect your investment with a water, abrasion and tear resistant cover.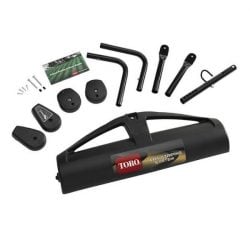 Lawn Striping Kit
Attaches easily to most walk behind mowers and can be used with or without a bagger. Create everything from simple stripes to an eye-catching work of art. Available at your local certified Toro dealer.