52″ (132.1 cm) GrandStand® MULTI FORCE®
MULTI FORCE® Cutting Deck
72529
$21,699 inc GST
Key product specifications
Deck

:

52" (132.1 cm)

Power

:

26.5 hp

Engine

:

Kohler Command EFI

Feature

:

TURBO FORCE® Cutting Deck

Unit: 5 years or 1,200 hours

Engine: 3 year
Find a local dealer
Key product specifications
Deck

:

52" (132.1 cm)

Power

:

26.5 hp

Engine

:

Kohler Command EFI

Feature

:

TURBO FORCE® Cutting Deck

Unit: 5 years or 1,200 hours

Engine: 3 year
Find a local dealer
Overview
Features
Specifications
Accessories
Now you can be more productive all-season long with the innovative Toro GrandStand® MULTI FORCE® stand-on mower that has the ability to attach a blower, aerator, dethatcher, and bagging system. It features a 52″ (132.1 cm) TURBO FORCE® cutting and 26.5 hp Kohler EFI 747cc engine. It's designed to give you even more productivity. The smaller footprint takes up less space on the trailer when transporting. Mows 25% faster with speed up to 16.1 km/h, has a 39.75 litre fuel tank that allows you to go farther and work longer. We've eliminated the hydraulic hoses, reduced parts, no routine greasing and simplified the design to save you time. All GrandStand® stand-on mowers give you exceptional operator visibility which leads to less property damage and a higher quality of work. Best of all, great traction on slopes and manoeuvrability.
Multi-season flexibility by adding blower, aerator, dethatcher and bagger attachments.
Sleek, streamline design with elimination of extra hoses and parts.
Foldable platform has self-adjusting suspension and large open area to move around.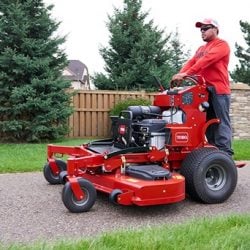 25% Faster Speeds
The up to 16.1 km/h transport speed gets you to your next destination 25% faster.
Smaller Footprint
The GrandStand® conserves space to get more machines on your trailer or allows for a smaller trailer and lighter load. The foldable platform makes it even more compact for transport or storage.
Better Visibility
The exceptional visibility from the GrandStand® protects the operator, the mower and the property. The operator is able to steer clear of obstacles better and easily pass beneath branches.
Easy Maintenance
Simply attach a hose to wash away clippings and maintain ideal cutting performance.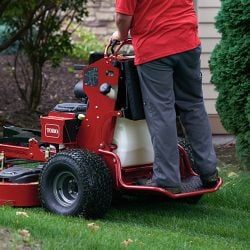 Comfortable Ride
The platform has self-adjusting suspension, a larger open area to move around, and sloped sides for a more secure stance when cutting sloped terrain.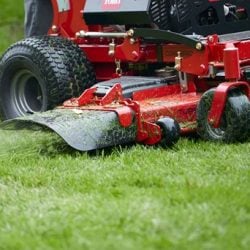 Ultimate Cutting Deck
Our exclusive TURBO FORCE® cutting deck is built to withstand the extreme conditions of long, tough days on the job. It features a durable bull-nose bumper, high-strength blades and the industries toughest spindle assemblies.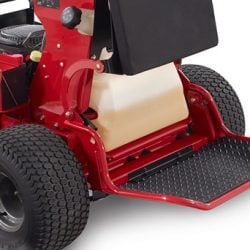 Extra Large Fuel Tank
39.75 litre fuel tank requires less filling and more time working. Transparent tank make it easy to gauge the fuel level.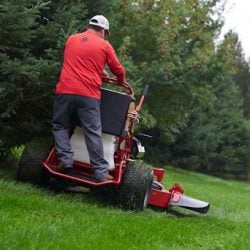 Traction On Hills
The low centre of gravity of stand-on mowers hug hills and slopes. Operators can easily shift their weight as needed to enhance performance.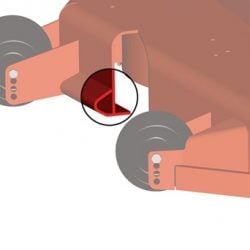 Smarter design in a bull-nose bumper
7-gauge bull-nose bumper not only protects against frontal impacts, but also contains an integral underskirt to minimise blowout of debris and dust. The bottom, leading edge of the deck is raised 6 mm, allowing grass to stand more upright when entering the cutting chamber, ensuring a level cut. Leaf "plowing" during spring and autumn clean-up also is significantly reduced.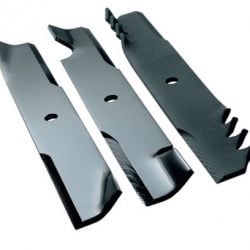 A Flat Crisp Cut with Precision Blades
(.250) thick precision blades resist flexing to provide a flat, crisp cut. High-strength, heat-treated alloy steel survives impacts and provides resistance to the rapid wear commonly associated with abrasive conditions. Options include Recycler® and Atomic® mulching blades, medium sail Bahai blades, and low sail sand blades.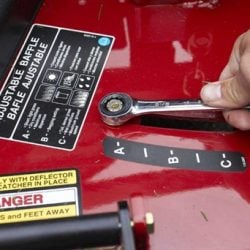 Patented Adjustable Baffle
Allows operator to achieve maximum cutting performance by fine-tuning deck to conquer changing conditions, unique job sites or different times of the season. In extreme conditions, the baffle can be opened in order to conserve power and achieve faster mowing speeds. In less demanding conditions, the baffle can be closed to yield micro-sized particles and maximise discharge velocity.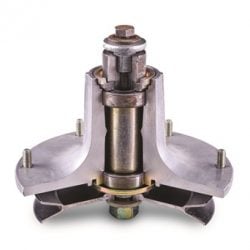 Cast Aluminium Spindle
Cools quickly for enhanced durability and performance.
Engine
Kohler Command EFI
Fuel Capacity
39.75 Litres
Cutting Width
52" (132.1 cm)
Blade Tip Speed
18,500+ ft/min
Caster Tyres
28 x 13-13 cm flat free semi-pneumatic
Deck Design
80-grade 7-gauge 132 cm (52") TURBO FORCE® w/bull-nose bumper
Drive Tyres
51 x 26.67 - 20 cm
Mowing Speed
Up to 16.1 km/h
Transport Speed
16.1 km/h
Adjustable Discharge Baffle
Standard, tools-free
Air Filter
HD Cannister
Blade Type
6.4 mm (1/4") thick heat-treated steel
Carrier Frame
8 x 4 cm tubular steel
Discharge Chute
High-performance rubber
Drive System
Integrated hydraulics (no hoses)
Engine Horsepower
26.5 hp
Engine Displacement
747cc
Ground Speed
0 - 16 km/h
Height of Cut
3.81cm - 12.70 cm
Hydraulic Fluid
Premium synthetic
Optional Attachments
EZ-Vac Powered Bagger, Pro Force Debris Blower, Tine Rake Dethatcher, Hooker Aerator
Spindle Bearings
Maintenance free ball bearings
Spindle Housing
22.9 cm diameter cast aluminium
Steering Controls
Twin lever
Weight
411.9 kg
Warranty
Unit: 5 years or 1,200 hours
Whichever occurs first. No hour limit on the first 2 years
Engine: 3 years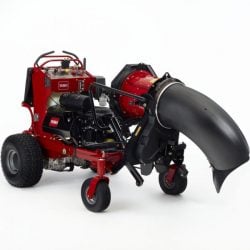 Pro Force Blower (78593)
The Pro Force Blower has a 360º nozzle rotation and utilises the MULTI FORCE® 26.5 hp Kohler® Command Pro™ EFI engine to deliver tremendous air power for fast removal of grass clippings, leaves, or other debris.
EFFICIENT TURBINE-TYPE ASSEMBLY DESIGN – For greater air flow to move debris farther and finish the job faster. Rated at 7800 CFM.
DURABLE NOZZLE – Heavy-duty, single-piece rotomolded plastic nozzle resists impacts.
360º MOVEMENT – Nozzle and lower shield rotate 360° to give ultimate debris control. Easy directional control at your fingertips using the low flow controls and PTO switch.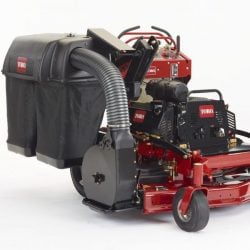 Soft Twin Bagger (78575)
The patent-pending side-mounted Soft Twin Bagger has a large 8 bushel (0.28 m3 ) capacity and the vertically-mounted blower allows for excellent manoeuvrability in tight spaces and maximum visibility.
EASILY REMOVABLE – Bagger frame conveniently removes with three pins and one bolt, while bagger removes simply with one pin and a latch.
COMPACT – The side-mounted bagger offers a smaller width dimension.
SIDE-MOUNTED – Only stand-on machine with a side bagger to provide maximum visibility and excellent manoeuvrability.
BELT-DRIVEN – The blower/bagger system engages automatically with no additional engine required.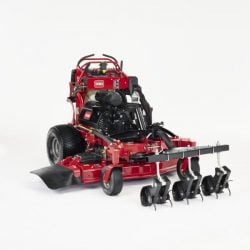 Hooker Aerator (78694)
Puncture up to six holes per square foot with the 96.5 cm wide aerator. Tines pierce deep into the soil, hooking and lifting loose plugs of dirt that disperse quickly, spreading nutrients over the surface.
BORN TO PERFORM – Bring efficiency to a new level and aerate 6131.6 square metres per hour at 8 km/h.
COMMERCIAL CONVENIENCE – Obstacles are no match for this aerator with six floating rotor heads that lift independently, three caster assemblies with floating cast iron tine rotor heads, and swivel casters.
QUICK-ATTACH SYSTEM – Easily attach with mount bar and two clevis pins.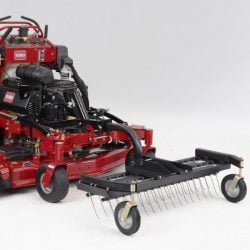 Tine Rake Dethatcher (78690)
Turn your mower into the ultimate spring clean-up tool with MULTI FORCE® front-mount tine rake dethatchers. Use the rake to remove thatch, embedded leaves and debris.
DOUBLE DUTY – Use throughout growing season to control thatch accumulation and reduce turf disease.
BORN TO PERFORM – Promote root development and make room for thicker turf, rake in seeds to accelerate germination, and clean up autumn grass for a picture-perfect lawn.
QUICK-ATTACH SYSTEM – Easily attach with mount bar and two clevis pins.