60″ (152 cm) Z Master 4000 Series MyRIDE®
MyRIDE® Suspension System
74055TA
$22,699 inc GST
Key product specifications
Deck

:

60" (152 cm)

Power

:

31 hp

Engine

:

Kawasaki® FX921V (999cc) with Heavy-Duty Air Cleaner

Feature

:

MyRIDE® Suspension System

5 year 1250 hrs limited warranty / 2 year unlimited HR warranty
Find a local dealer
Key product specifications
Deck

:

60" (152 cm)

Power

:

31 hp

Engine

:

Kawasaki® FX921V (999cc) with Heavy-Duty Air Cleaner

Feature

:

MyRIDE® Suspension System

5 year 1250 hrs limited warranty / 2 year unlimited HR warranty
Find a local dealer
Overview
Features
Specifications
Kick productivity and comfort up a notch with the Z-Master 4000 HDX with MyRIDE® Suspension System. Power through your day with a powerful 31 hp* Kawasaki FX921V engine, heavy-duty commercial grade hydros, 66 cm (26″) Voodoo Trac™ Tyres, and a 152 cm (60″) 7-Gauge High-Strength Steel TURBO FORCE® cutting deck. Ride in comfort with the customisable MyRIDE® Suspension System featuring up to 7.6 cm of platform travel to save your body from tough terrain. Easy on and off with a step-through front end, deck step plate, and anti-slip floormat. With the deluxe suspension seat, an hour meter, USB ports, phone holder, cup holder, and for after-hours work, powerful illumination with LED headlights, you'll have everything you need to help you power through long days.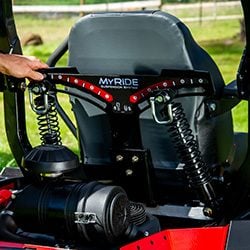 MyRIDE® Suspension System
No more rocky rides. Save your body from the toughest terrain and avoid slow mowing speeds with the MyRIDE® Suspension System. Enjoy a more comfortable ride, keeping you productive and feeling fresh.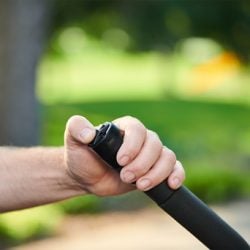 Electronic Deck Lift Assist
Electronic deck lift assist in dialing in your desired cut height.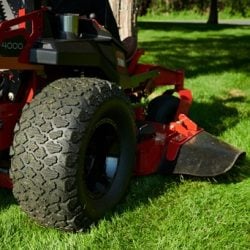 66 cm (26″) Voodoo Trac™ Drive Tyres
Get the ultimate in aggressive tread and styling and survey the task from a higher-vantage-point with 66 cm Voodoo Trac™ Drive Tyres.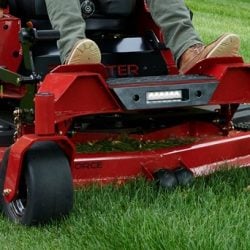 LED Headlights
Powerful illumination for after-hours work.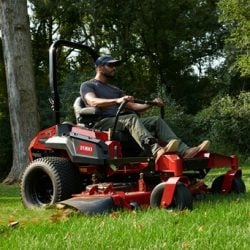 Up to 19.3 km/h
Get more done with ground speeds up to 19.3 km/h without reducing cut quality.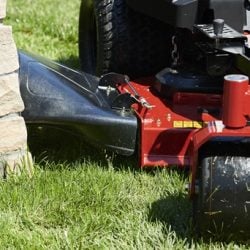 Rubber Discharge Chute
Trim close without damaging landscape structures or your chute.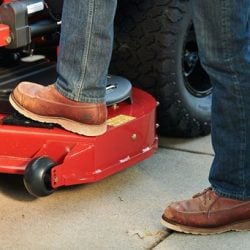 Deck Step Plate
Keep your grip and remove excess mud from your shoes with a deck step plate.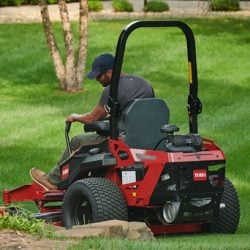 Clear Sightline to Rear Tyres
Clear sightline to rear tyres for enhanced control so you can clear a path without tyre spin.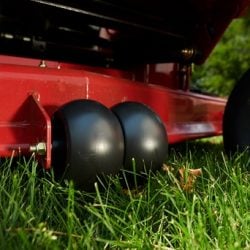 Dual Capture Anti-Scalp Rollers
Intelligently engineered dual capture anti-scalp rollers ensure the highest quality of cut in the harshest terrain you can throw at it.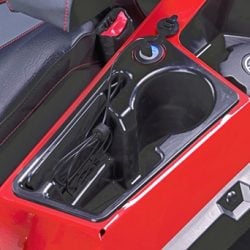 Phone and Cup Holder
Keep your phone and drink at arm's reach.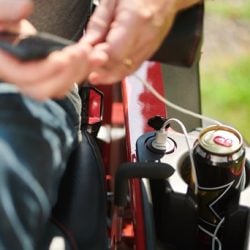 USB Ports
USB ports to help you stay charged on the job.
| | |
| --- | --- |
| Engine | 31 hp* Kawasaki FX921V (999cc) with Heavy-Duty Donaldson® Canister-Style Air Cleaner |
| Fuel Capacity | 37.9 litres |
| Blade Tip Speed | 18,500+ ft/min |
| Caster Tyres | 38 x 16.5 – 15.2 cm (15" x 6.5" - 6") Pneumatic |
| Deck Design | 60" (152 cm) 7-Gauge High-Strength Steel TURBO FORCE® |
| Drive Tyres | Voodoo Trac™ 66 x 26.7 – 30.5 cm (26" x 10.5" – 12") |
| Clutch | Electromagnetic |
| Discharge Chute | Rubber |
| Engine Displacement | 852cc |
| Foot Operated Height of Cut | Standard, 3.8 – 12.7 cm (.6 cm increments) 1.5" - 5.5" (.25" increments) |
| Ground Speed | Up to 19.3 km/h |
| Horsepower | 31 hp* |
| Hour Meter | Standard |
| Ignition | Electric |
| ROPS | Folding |
| Seat | Deluxe Suspension |
| Spindle Bearings | Maintenance-Free |
| Spindle Housing | 22.9 cm (9") Diameter Aluminium |
| Steering Controls | 3.6 cm (1.4") Diameter Grips; Adjustable, Dampened |
| Transmission | ZT-4400 Integrated Pumps & Wheel Motors |
| Warranty | 5-Year 1250-Hour / 2-Year No Hour Limit** |
| Disclaimer | *The gross horsepower of these engines was laboratory rated at 3,600 RPM by the engine manufacturer in accordance with SAE J1940 and SAE J1995. As configured to meet safety, emission and operating requirements, the actual engine horsepower on this mower may be significantly different. |