72″ (183cm) Z Master 5000 Series Rear Discharge
$28,399 inc GST
Key product specifications
Deck

:

72" (183cm)

Power

:

26.5 hp

Engine

:

Kohler® Command Pro EFI

Feature

:

Rear Discharge

5 year / 1200 hours limited warranty
Find a local dealer
Key product specifications
Deck

:

72" (183cm)

Power

:

26.5 hp

Engine

:

Kohler® Command Pro EFI

Feature

:

Rear Discharge

5 year / 1200 hours limited warranty
Find a local dealer
Overview
Features
Specifications
Z Master 5000 Series mowers offer rear discharge decks for increased productivity in taller grass. These EFI models also use up to 25% less fuel than equivalent non-EFI mowers. The rear discharge design allows operators to trim on either side of the deck — no need to change direction to avoid discharging debris on roadways, sidewalks or flowerbeds. Clippings are dropped within the path of the mower, saving time and cleanup.
The Tweel Turf Tyres means no air pressure to maintain, no flat tyres, no compromises. Extra long wear life two to three times that of a pneumatic tyre at equal tread depth.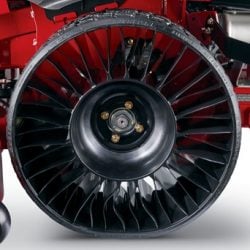 Michelin® X® Tweel® Turf Tyres
No air pressure to maintain, no flat tyres, no compromises. Get extra long wear life two to three times that of a pneumatic tyre at equal tread depth.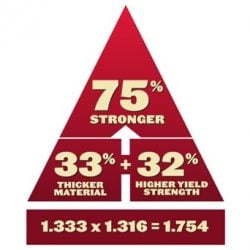 7-Gauge, High-Strength Steel
The TURBO FORCE® deck is constructed of 7-gauge, high-strength steel which is 33% thicker and 32% higher in yield strength than ordinary 10-gauge commercial steel used in 7/10 decks. The combined effect is 75% stronger, so it easily handles the most demanding conditions and resists damage from impacts and abrasion.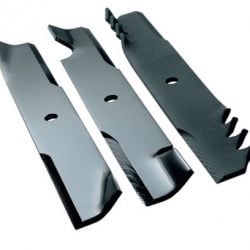 A Flat Crisp Cut with Precision Blades
(.250) thick precision blades resist flexing to provide a flat, crisp cut. High-strength, heat-treated alloy steel survives impacts and provides resistance to the rapid wear commonly associated with abrasive conditions. Options include Recycler® and Atomic® mulching blades, medium sail Bahai blades, and low sail sand blades.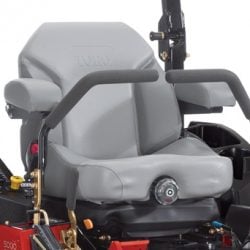 Deluxe Suspension Seat
Deluxe suspension seat features thick cushions, large bolsters and 3-D isolator mounts that absorb bumps and vibrations to reduce operator fatigue.A Flat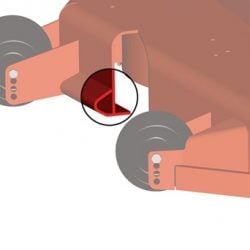 Smarter design in a bull-nose bumper
7-gauge bull-nose bumper not only protects against frontal impacts, but also contains an integral underskirt to minimise blowout of debris and dust. The bottom, leading edge of the deck is raised 6 mm, allowing grass to stand more upright when entering the cutting chamber, ensuring a level cut. Leaf "plowing" during spring and autumn clean-up also is significantly reduced.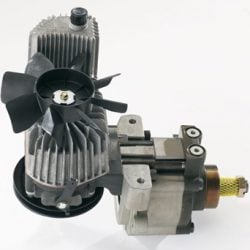 Smooth, Powerful Response
The new unitised pump and wheel motor use proven commercial hydraulic components while eliminating hoses and other potential leak points. You'll get a smoother, faster response while enjoying an even more reliable machine.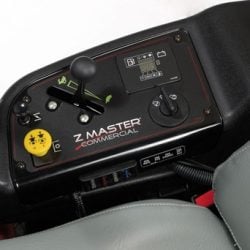 Operator Information Centre
The instrument panel includes a digital hour meter, fuel gauge, and voltage meter, as well as diagnostic indicators for the safety interlock system.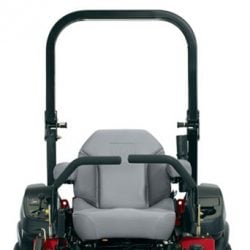 Folding Rollover Protection System ROPS
A Rollover Protection System (ROPS), complete with seat belt, comes standard for operator protection in the case of accidental rollovers and tipovers. In situations where sufficient vertical clearance is not available, such as loading on an enclosed trailer, the ROPS can be temporarily unlocked and folded down.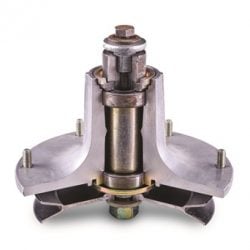 Cast Aluminium Spindle
Cools quickly for enhanced durability and performance.
| | |
| --- | --- |
| Engine | 26.5 hp* (20 kw) Kohler® Command Pro EFI |
| Fuel Capacity | Petrol 45.4 litres |
| Cutting Width | 72" (183cm) |
| Blade Tip Speed | 5638.8 m/min (18,500+ ft/min) |
| Caster Tyres | 33 cm x 16.5 cm – 15.2 cm (13" X 6.5" – 6") Flat-Free Semi-Pneumatic |
| Deck Design | 80-Grade 7-gauge 182.9 cm (72") TURBO FORCE® Rear Discharge w/ bull-nose bumper |
| Drive Tyres | Airless radial 60.96 cm (24") Michelin X Tweel Turf Tyres |
| Adjustable Discharge Baffle | Standard |
| Air Filter | Heavy-Duty Canister Air Cleaner |
| Armrests | Standard |
| Clutch | Electromagnetic |
| Cup Holder | Standard |
| Discharge Chute | Rubber |
| Ground Speed | 16.1 km/h forward |
| Height of Cut | 2.5 cm x 14 cm by 6 cm increments |
| Number of Blades | 3 |
| Hour Meter | Standard |
| Hydraulic Fluid | Premium synthetic |
| Ignition | Electric |
| ROPS | Folding; standard |
| Seat | Handcrafted deluxe suspension seat with arm rests featuring bullhorn accent |
| Spindle Bearings | Maintenance free ball bearings |
| Spindle Housing | 22.9 cm (9") diameter cast aluminium |
| Steering Controls | 4.1 cm (1-5/8") diameter grips; adjustable, dampened |
| Weight | 605.5 kg |
| Warranty | 5 years/1200 hours limited warranty |
| Disclaimer | *The gross horsepower of these engines was laboratory rated by the engine manufacturer in accordance with SAE J1940 or SAE J2723. As configured to meet safety, emission and operating requirements, the actual engine horsepower on these mowers will be significantly lower. |