Interest free for 1000 days‡~
eS3000SD 30″ (76cm) Battery Powered Ride-On Mower
$4,999 inc GST
$34.98

per week
Over 142 weeks or $151.49/month
over 33 months with Humm90‡~
Key product specifications
Deck

:

30" (76cm)

Power

:

72V rechargeable battery

Motor

:

Single motor with a rating of 800w. Powered by an integrated battery with mains charging cable.

Feature

:

Up to 2 hours or 8000m2

3 year mower & battery warranty
Find a local dealer
Key product specifications
Deck

:

30" (76cm)

Power

:

72V rechargeable battery

Motor

:

Single motor with a rating of 800w. Powered by an integrated battery with mains charging cable.

Feature

:

Up to 2 hours or 8000m2

3 year mower & battery warranty
Find a local dealer
Overview
Features
Specifications
Offers
Recharge your yard.
Toro's newest E Series battery powered ride-on mower
Achieve maximum productivity with minimum effort with Toro's newest ride-on battery powered tractor mower. Featuring a 72V rechargeable battery, this powerful machine offers a quiet and convenient mowing experience. Power through your garden clean-up in no time, the eS3000's compact design and top-of-the-line specifications means you can create a beautiful lawn with more time to enjoy it.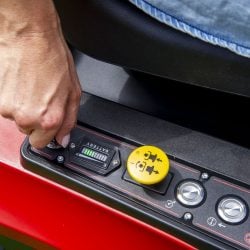 Powerful
Powered by a 72V brushless motor with up-to 2 hours (8,000 sq/m) of run time.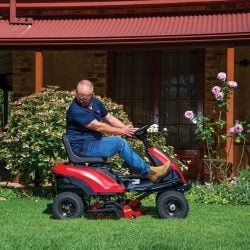 Dynamic
Mow in reverse. Effortlessly shift between mulching to side discharge modes.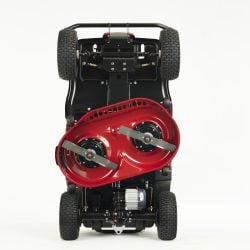 Hassle Free
No belts, pulleys, spark plugs, fuel or oil.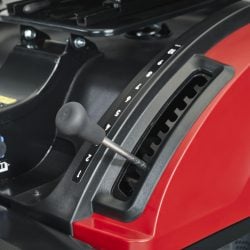 Productive
10 positions of cutting height from 2.5 cm up to 10.5 cm.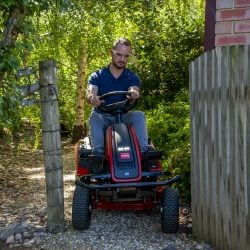 Agile
76 cm (30") deck to fit in tight spaces with a nimble 46cm turning circle.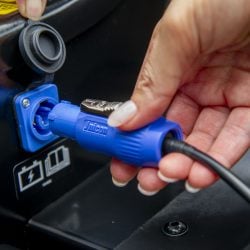 Efficient
Quiet operation. Low maintenance. Simple recharge.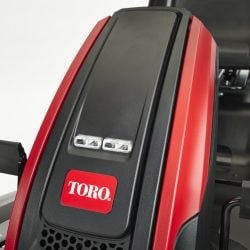 Convenient
Modern comforts: high back seat, cup holder, LED front lights, cruise control and USB connector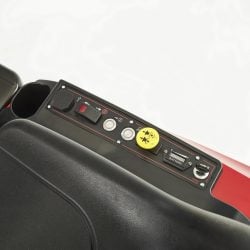 Easy to operate
Easy to operate, simple controls.
Motor
Single motor with a rating of 800w. Powered by an integrated battery with mains charging cable.
Run Time
Up to 2 hours or 8000m2
Deck Size
76 cm (30 inches)
Deck Configuration
Right side discharge, two blade mid-mounted rotary. Formed steel housing with welded mounting brackets
Deck Spindles
Two motors (800 watts each), one on each spindle, powering the rotation of each blade
Height of Cut
2.5 cm to 10.6 cm (1 to 4.2 inches) HOC in 10 increments
Steering Control
Ergonomic standard steering wheel
Wheelbase
107 cm (42.1 inches)
Turning Circle
46 cm
Tyres
33.0 x 16.5 – 15.2 cm (13.0 x 6.5 – 6.0 inch), pneumatic tyre with symmetrical tread
Seat
Adjustable, hinged mounting, with spring suspension
Ground Speed
MOW 0 to 5 km/h (0 to 3.1 mph)
FORWARD 0 to 8 km/h (0 to 5 mph)
REVERSE 0 to 5 km/h (0 to 3.1 mph)
Weight
188 kg
Dimensions
HEIGHT 106 cm (41.7 inches)
WIDTH 100 cm (39.4 inches) – With the deflector down
82 cm (32.3 inches) – With the deflector up (deck width)
LENGTH 148 cm (58.3 inches)
Warranty
3 years warranty. Refer to Operator's Manual for further details
Disclaimer
* Specifications and design subject to change without notice. Products depicted are for demonstration purposes only. Actual products offered for sale may vary in design, required attachments and safety features. Consult your local Toro Distributor.
Interest free for 1000 days‡~
Interest free‡~ for 1000 days‡~ on selected Ride-on and Stand-on products
eS3000SD 30″ (76cm) Battery Powered Ride-On Mower
videos