Stand-On Spreader Sprayer
$21,699 inc GST
Key product specifications
Power

:

9.5 hp

Engine

:

Kohler 9.5 hp CH395 277cc

Feature

:

Lean to Steer

1 year warranty
Find a local dealer
Key product specifications
Power

:

9.5 hp

Engine

:

Kohler 9.5 hp CH395 277cc

Feature

:

Lean to Steer

1 year warranty
Find a local dealer
Overview
Features
Specifications
Treating turf can be a big job. Toro's stand-on spreader sprayer makes that job a whole lot easier. It's the industry's most innovative product of its kind, featuring Lean To Steer technology so you can control the machine with one hand and have one hand free to make adjustments to the spreader or sprayer using the intuitive control panel. With fast forward speeds of up to 8.8 km/h, a large 79.4 kg hopper and a 75.7 litre spray tank, you can count on spending less time re-filling and more time covering ground.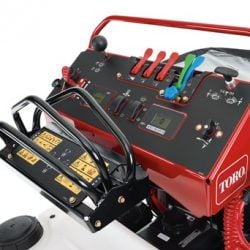 Lean to Steer Technology
Control forward/reverse and left/right steering with one hand, allowing adjustments to be made on the fly.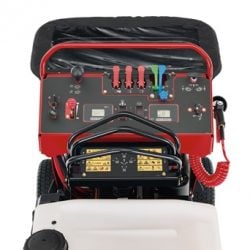 Easy-To-Use Controls
The easy-to-operate control panel allows the operator to conveniently make adjustments to spread and spray settings.The updated digital controls allow for more precise application.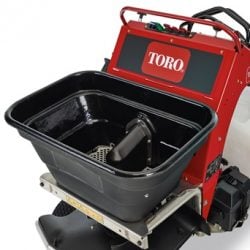 Large Capacity
From the 75.7 litres spray tank and 79.3 kg hopper capacity to the 7 litres fuel tank, Toro's Stand-On Spreader Sprayer is designed to maximise ground coverage and reduce re-fill stops – more time spent getting the job done and less down time. This results in increased productivity and outstanding efficiency.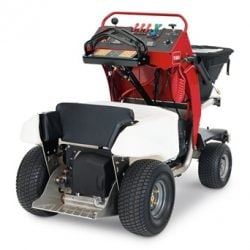 Operator Comfort
The large stainless steel operator platform, isolation mounts and the ergonomic padded knee bolster allow for a more comfortable ride and reduced operator fatigue.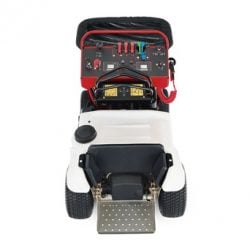 Compact Design
The compact design allows for exceptional manoevrability in tight spaces, including fitting through 91 cm gates, so spraying and spreading is possible in any area.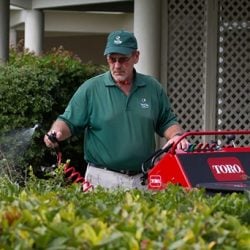 Hand-held Spray Wand
The hand-held spray wand comes standard for spot spraying to ensure you're covering the whole job, no matter how difficult to reach.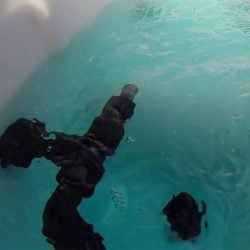 Spray Tank Agitation System
Two agitation nozzles in the spray tank can be turned on and off on demand from the operator panel to keep material in the tank circulating for even distribution and reduced clogging.
Engine
Kohler 9.5 hp CH395 277cc
Fuel Capacity
7 litres
Start
Electric / Pull
Ground Speed
8.8 km/h
Transmission
Hydrostatic
Steering
Lean to Steer
Spray Capacity
75.7 litres
Spray Width
1.2 m to 3.0 m
Spray Wand
Standard, hand-held spray wand for spot spraying
Spreader/Hopper Capacity
79.4 kg
Spread Width
1.2 m up to 6.7 m
Dimensions
Length: 171.5 cm
Width: 90.2 cm
Height: 130.8 cm
Weight (Dry)
226.8 kg
Wheels
Front: 33 x 16.5 - 17.8 cm
Rear: 45.7 x 19.0- 20.3 cm
Frame
Stainless steel
Warranty
1 year warranty