Walk Behind Power Broom
$8,599 inc GST
Key product specifications
Power

:

7 hp

Engine

:

Kohler® Command™ Pro CH270, 208 cc

1 year warranty
Find a local dealer
Key product specifications
Power

:

7 hp

Engine

:

Kohler® Command™ Pro CH270, 208 cc

1 year warranty
Find a local dealer
Overview
Features
Specifications
The Toro Walk Behind Power Broom is a multi-purpose broom with applications for every season. From clearing debris to dethatching grass, this broom has landscape contractors needs covered year-round. Its innovative features allow for the high performance and ease of use that you expect from Toro.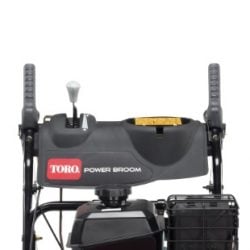 Independent Control Levers
Control levers for broom engagement and ground drive allows you to disengage and engage the broom at any point while you're driving.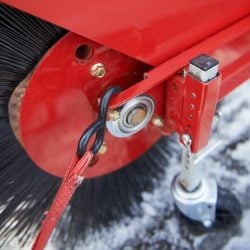 Integrated Tie-Down Points
Four integrated tie-down points are built right into the frame of the machine so you can secure quickly and transport safely.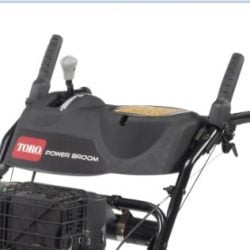 Variable Speed
With 6 forward and 2 reverse speeds and shift-on-the-fly transmission, the variable speed technology allows you to walk at your own pace with no effort.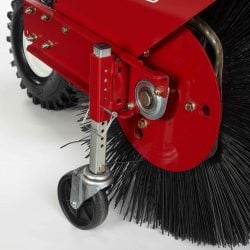 Pin Height of Brush System
Eliminate brush wear and surface damage. Our unique pin height-of-brush system allows for precision height adjustment up to 0.32 cm increments. No more tricky screws and time wasted leveling.
Power Steering
Wheels can be disengaged independently or simultaneously with trigger controls – making turning, reversing and steering easy for anyone.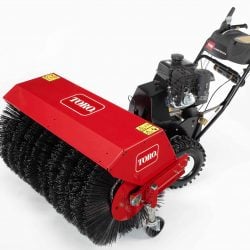 Broom Angle Adjustment
An easy to use thumb latch lets you change the angle of your broom by 20 degrees in either direction, allowing you to sweep the debris away from your path and where you want it.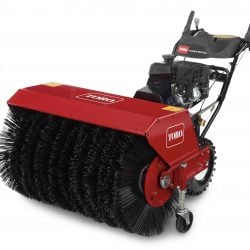 Durable Construction
Toro's Power Broom is built to last. Its robust frame is specially constructed for ultimate strength and durability. The reinforced handle bars and heavy-duty gearbox stand up to years of the toughest conditions.
Engine
Kohler® Command™ Pro CH270
Fuel Capacity
4 litres
Starter
Recoil
Transmission
Friction disc
Steering
Power steering with clutch left & right hand
Clutch
Engine belt tensioner
Broom Angle
40º total - 20º left /20º right
Broom Width
91.4 cm (18 wafers)
Broom Diameter
63.5 cm
Broom Speed
200 rpm
Broom Drive
Direct
Tyres
38.1 cm x 12.7 cm
Dimensions
Length: 185.5 cm
Width: 118 cm
Height: 105.5 cm
Weight
146.5 kg
Warranty
1 year warranty